Kingdom Embassy Ministries Discipleship Devotional Series
"So shall My word be that goes forth from My mouth; it shall not return to Me void, but it shall accomplish what I please, and it shall prosper in the thing for which I sent it." Isaiah 55:11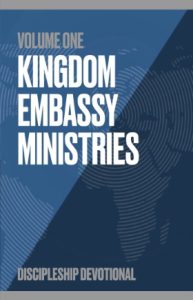 PDF: Kingdom Embassy Ministries Discipleship Devotional Volume One
EPUB: Kingdom Embassy Ministries Discipleship Devotional Volume One
Soft Cover: Kingdom Embassy Ministries Discipleship Devotional Volume One
Welcome to the Kingdom Embassy Ministries Discipleship Devotional Series. This body of work was designed to fulfill multiple purposes simultaneously.
First, it is a Daily Devotion. There is one devotion each week patterned after the ancient yearly Torah reading cycle. However, each should require an entire week to complete. It is recommended that on day one each week you read the entire entry. Get a feel for how you can best distribute the reading requirements and assignments over seven days, and then jump right in.
Second, it is a Comprehensive Bible Study. For most Christians it will require a greater quantity and quality of Bible reading than they have ever done before! Please read every Scripture and make a committed effort to answer all the questions.
Lastly, it is a Discipleship Journey. You will learn so much over the next year, as you weave your way through thousands of Bible verses. You will oftentimes discover things you've never known, as you connect the words of Y'shua (Jesus) and His disciples to the words of Moses and the prophets and biblical history.
This will undoubtedly impact your growth as a disciple. You might even feel you graduated from seminary when you're done. But, don't be upset when it's over, this is only Volume One.