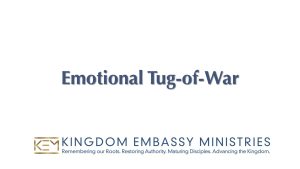 As we move about in our everyday lives, nothing is more evident than the constant emotional tug-of-war in which we live! Life is filled with constant psychological battles, which we can choose to fight in the flesh or in the Spirit. Truthfully, none of us likes dealing with the issues that have forced such battles.
However, it is also evident that Christians today have, in many ways, been wrongly led to believe that the moment they receive Christ as Savior, life will all of the sudden become easier, such battles will become a thing of the past, money will flow in, sickness will remain at bay, and everyone will get along. And the list of Grated thoughts can grow ad nauseam! You've heard this type of preaching; I have too! Do such beliefs have a place in the minds of Christians living solely for the Kingdom? If so, was Peter then wrong when he said, "For it is better to suffer for doing good, if that should be God's will, than for doing evil?" (1 Peter 3:17) Let's find out!
What we learn from today's Scriptures is that instead of the zero-issue life, the battles we face don't come about by mere happenstance. They are orchestrated by God and they should most definitely not become wasted opportunities. Let's not pass up these opportunities, both to develop a more theologically sound way of handling such situations, and in turn, to advance God's Kingdom.