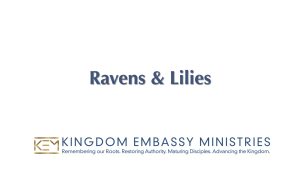 Have you ever come to the end of your faith? You know, that moment when you think, maybe even say out loud, "How can I possibly get through this? My circumstance is impossible! Where on earth will I find provision?" When the people of Israel were instructed to let the land rest for a full year, every seven years, they worried about the inevitable lack of provision; "Where will we get our food?"
On one occasion, thousands followed Jesus to a deserted place to hear His words and be healed, and by evening they were hungry. Jesus simply asked His disciples, "Where shall we buy bread, that these may eat?" They responded in the same spirit as their ancestors; "Where will we get food to feed them? Send them away to get their own food." Jesus went on to challenge them; "They do not need to go away. You give them something to eat." We learn in John's Gospel that He did this to test them! What was the test?
Later in His ministry, Jesus taught a parable explaining this very test. If a homeowner knew in advance the schemes of a thief, what would he do? It's simple; he'd prepare for the break in. The lesson is that if you have advanced notice of an impending event, let's say, like the Master asking you to "give the people something to eat in a deserted place," you too must be prepared. It turns out Jesus has, indeed, given us such advanced notice! "Who is the faithful and wise steward, whom his master will make ruler over his household, to give the people food in due season? Blessed is that servant whom his master will find so doing when he comes." In other words, be prepared to feed My people when the famine comes!
Oh, and if you are worried about from where such provision will come, Jesus has something to say about that as well. "Do not worry about what you should eat or what you should drink, nor have an anxious mind. The pagans worry about these things. Your Father knows what you need; all you have to do is seek the kingdom of God." Do that and you will have all the provision you will ever need! And blessed will that servant be!