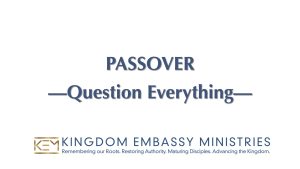 Over the years, I have learned that asking questions is a powerful way to engage with people on a deeper level. When I was younger, and much more impetuous, I thought arguing with people was an effective way to convince them they were missing something. I was very wrong and it was a tough lesson. But, as I've grown older, and my hair has become filled with silver, I've come to realize there's a much better way.
Paul used the Hebraic technique of asking questions quite often, and he has stirred the imagination of Christians for two thousand years. Check out a few of his many in I Corinthians 9:
Who ever goes to war at his own expense?
Who plants a vineyard and does not eat of its fruit?
Do I say these things as a mere man?
Does not the law say the same also? A quick review of Paul's greatest "Theological Treatise" in Romans, and you will discover that he asks at least 75 different questions! Here are a mouthful to chew on:

"What advantage then has the Jew, or what is the profit of circumcision? Much in every way!
"Do we then make void the law through faith? Certainly not! On the contrary, we establish the law."
"What shall we say then? Shall we continue in sin that grace may abound? Certainly not! How shall we who died to sin live any longer in it?"
"What then? Shall we sin because we are not under law but under grace? Certainly not!"
"What shall we say then? Is the law sin? Certainly not!"

"O wretched man that I am! Who will deliver me from this body of death? I thank God—through Jesus Christ our Lord!"
Y'shua also used questions quite effectively. "Who do men say that I am?" challenged Peter to come to a Spirit-inspired conclusion; it was a provocative question for sure. "The Son of God…the Messiah," he was forced to confess.
However, what might be the most provocative question of all, is one that Y'shua leaves the conclusion for you to discover. "Who then is a faithful and wise servant, whom his master made ruler over his household, to give them food in due season?" I want you to draw your attention to this question, but not before contemplating His remarkable declaration earlier in the same sermon. "And this gospel of the kingdom will be preached in all the world as a witness to all the nations, and then the end will come."
Before we go, I would like to ask you a few provocative questions of my own, about Y'shua's remarkable statement: "What is the Gospel of the Kingdom?" and "What is the end?" Please don't be too hasty to offer an answer. Give it some serious thought. Consider that I'd not likely ask if the answer was simple. I'll give you one hint however; think about the title of this sermon.