Young Disciple Series | Young Disciple Series Video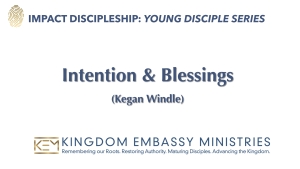 God did not create the world to be without form and void, yet already within the very first book of the Bible in the very first chapter illustrated for us in the second verse it says that the earth came to be without form and void shortly after its inception!
We know that God created the Earth with one goal in mind: To share His Eternal Glory with His creation. He created the Heavens and the Earth as two separate domains of perfection that were intended to interact with each other harmoniously forever. The perfectly balanced and opposing forces cause a perpetual holiness engine that provides a continuous flow of positive energy (i.e. Blessings) from which the whole Universe is designed to be Eternally sustained. Man fell, God intervened by sending us His son, His son initiated the first step toward getting the machinery of the Universe back into working order, and now it is up to us to finish the job!