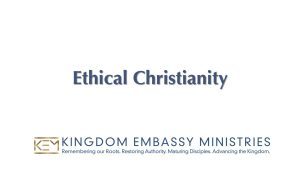 Brennan Manning, a Franciscan Priest and author of the Ragamuffin Gospel wrote—"The greatest single cause of atheism in the world today is Christians who acknowledge Jesus with their lips and walk out the door and deny Him by their lifestyle. That is what an unbelieving world simply finds unbelievable."
I've lived as a Christian for the last 18 years, and I too can echo those words. We can agree, from the average believer sadly living their lives as described by Manning, to all the recognizable faces of those once held in esteem for their achievements in the faith, now disgraced in infamy, it is an utter atrocity. The reputation of Christianity has become poisoned!
Of course, everyone is responsible for their own sin. But, as a whole, why has modern Christianity not been able to push against the tirade of temptation it faces from societal pressures? Could it be that Christendom, as a body, has forgotten its ethical foundations?
Consider what God spoke through Jeremiah the prophet (v.17:9); "The heart is deceitful above all things, and it is exceedingly corrupt: who can know it?" It should be evident that separating from the lifestyle moorings, which God provided in the Scriptures, will always yield the same outcome, the spectating world pointing fingers at all those who crash and burn, and in the end indicting Christianity for the hypocrisy they witness. All this would be avoided if we returned to "Ethical Christianity."